Specializes in Weddings!!
Your special day has arrived. All your planning and preparations have finally come together. Your hard work and efforts provided by your wedding professionals are on display. The emcee/entertainer had previously discussed every detail, and stage is set. It's now time to sit back, relax and enjoy the festivities.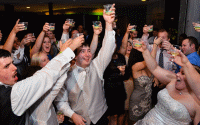 Once presented with a timeline from our easy to use online planning forms, the entertainer takes your event from start to finish. Each of our entertainers are accomplished professional wedding emcee's with over ten years experience and will take extreme care when conducting introductions, specialty dances, formalities and other requested events.
When the cocktail party begins and as your guests make their way into the reception hall, they are greeted with an assortment of tasteful background music especially tailored for your event. During dinner, continuous music is provided based on your preferred style, genre, or requests. As the dance portion of the reception starts to take place, it's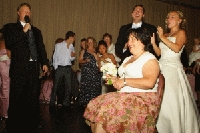 important that you have a DJ that has experience and knows how to "read the crowd". Your entertainer will provide the latest music from today's top hits to the golden oldies.
Our ultimate goal is to keep your reception light, lively and well organized but never cheesy. Remember we custom build weddings, so pick and choose as many of your favorite songs you would like to have played. Your entertainer will know exactly what to do. We will always honor your must play and do not play selections.